Laser tattoo removal is one of the most commonly used methods to erase old, unwanted, or bad tattoos from the body. This method developed as a non-invasive alternative to dermabrasion and surgery, which were among the first tattoo removal means. The extensive damage to skin, especially scarring and bruising, as well as the side effects that resulted from invasive tattoo removal methods slowly, gave way to lasers as a safer and better alternative. But, is using laser all that useful and harmless? Read on to know.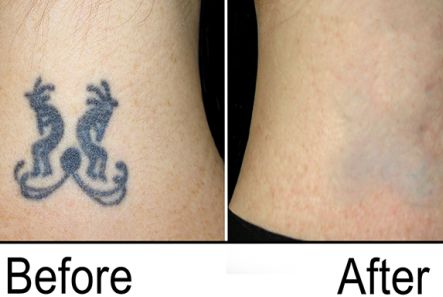 How laser tattoo removal functions
Before delving into the pros and cons of laser jobs for erasing tattoos, it is important that you understand how the method works in getting rid of unwanted ink from the body. Tattoos contain pigments that have been injected into the skin. Lasers, which are high-intensity beams, break down these pigments so that they can be removed from the body. The beams are extremely hot, operate in very narrow frequencies and very fast, working on a scale of a trillionth of a second. The heat thus generated and the speed at which the laser functions helps it break down the ink effectively. This is because the very fast thermal expansion heats up only one part of the ink particle, while the other part remains cool. This opposing hot and cool nature of particle causes the pigment to get ripped apart easily. These bite-sized chunks of ink are slowly absorbed by the white blood cells and transported into the liver and kidneys from where they are expelled through sweat and urine. Therefore, as opposed to common belief, a laser doesn't really 'wipe off' or evaporate color, but pushes it back into your body, from where it can be flushed out.
Are lasers really effective?
If lasers are the go-to choice of tattoo removal for people, they must be really effective, right? Well, not always. It is possible to have less than satisfactory results when you opt to get your ink removed using lasers. This is because the procedure is dependent on many factors. Firstly, the ink color has a huge role to play in how your design gets removed. Black pigments get removed easily with lasers. With modern technology, blue, green, and to a certain extent red, too can be erased well with the high-intensity beam. However, other colors, especially lighter ones are hard to remove. White turns dark on contact with lasers. Secondly, the age of the tattoo – older ones are easier to break down than fresh ones. Thirdly, the placement of the tattoo on your body. Those on the torso, or which are closer to the heart will fade faster owing to better blood circulation in the area. Finally, your skin color. The starker the contrast between your skin and the tattoo colors, the longer it will take to undo the design.
Lasers may not be all that safe
Laser tattoo removal is definitely a better choice than dermabrasion and surgery for its non-invasive nature. However, the method is not completely free of side effects. The procedure firstly is painful and sometimes requires anesthetics or numbing creams. Secondly, the procedure may result in scarring if not done correctly and carefully. This is because the site of removal is prone to infection if not treated with care. Blisters, scabs, and bruising also appear for a few days post the procedure. Picking scabs and not properly caring for the site greatly aggravates the chances of an infection and a scar developing. Another side effect is that the treated skin sometimes experiences hypopigmentation, meaning it appears paler than surrounding skin. Hyperpigmentation could also occur, which results in darkened skin. It is also typical for your skin to be sensitive after the treatment, so you will need to be extra cautious when stepping out.
Other concerns with laser tattoo removal
It takes anywhere between ten to twenty sessions to completely erase an inked design from your body, with dependencies on the factors mentioned above. Therefore, the laser is also an expensive treatment option for tattoo removal.
A safer and better alternative to laser tattoo removal is the all-natural method that uses toxin-free formulations and a tattoo removal machines to erase old and unwanted designs.