No one said dancing was easy; especially when it's as sexy and intoxicating as the Bachata! Now, learning how to do the Bachata isn't as hard as getting on board with signing up for these classes. We all know how easy it is to find Bachata classes near me with a thousand Google results, so we won't bore you with the details of looking for classes. In this article, we shall talk about the four most important steps to consider before signing up for your classes, which you probably haven't given enough thought!
Bachata For Beginners: Diving Deeper
Bachata is one of the less-formal dancing styles and one of the most intimate Latin dances, with the exception of the Rumba, of course. If you're thinking of learning some form of Latin dance, Bachata is considered one of the easier ones. The steps are easy to pick up, and it's really about isolating different body parts to get into the sensual body groove. So, what are some of the things you're going to have to get used to while signing up for Bachata classes?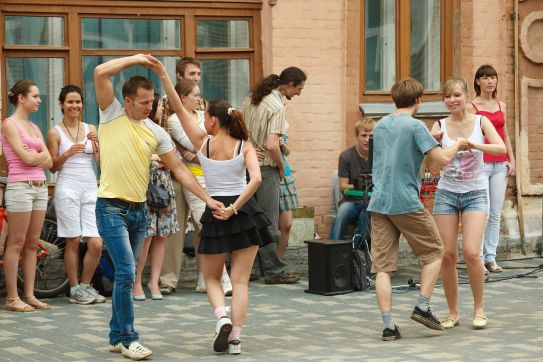 You Get Way Up Close and Personal with Your Partner
This is an idea you're going to have to get used to. After you find the closest Bachata class near you and head to your first class, don't be alarmed by the intimacy between fellow dance partners: it's part of Bachata's charm. You'll often find dancers with their arms wrapped around each other and bodies pressed close together. If you find your partner coming up close to you, don't panic. At the same time, don't be afraid to wrap your arms around your partner's neck and really get into the rhythm of it. We should probably mention that you'd be most comfortable dancing the Bachata with someone you're very close with. With time and practice, you'll notice that the dancing often pushes you against your partner up close. But hopefully, by this time, you'll be way over your sense of personal boundaries, at least with your dance partner!
Confidence is Key
Before you search for "Bachata classes near me," keep in mind that it is a very romantic and sensual dance. If you're not one for shaking your hips to the intoxicating beats, then you're best to stay off the dance floor and look for another form of dance. Remember, the Bachata is a dance that will help you loosen up and generally feel good about yourself and your partner. Some of the best Bachata dancers are the ones that move in an inhibited fashion and embody the beautiful lyrics of Latin music. And for all of this to work out, confidence is key! Remember that if you feel hesitant, unsure, or reluctant in any way, your body will tense up and it will be visible to all. Just relax, take a deep breath, and go for it. Don't think twice about messing up because you're only just learning. Dancing is a lifelong learning process and no one truly masters it. For now, just think about having a good time and loosening up. If you mess up, just laugh it off and keep ongoing.
Pro tip: Don't try too hard to be sexy in the beginning, because rest assured, it will come off looking super awkward and unnatural. Find moves that you are comfortable with doing and you'll work your way up from there naturally.
Get Used to the Music
Did you know there was plenty of research involved before simply typing "Bachata classes near me?" Do your homework and get to know the music beforehand. Having a good sense of rhythm is pertinent for any kind of dance, but even more so for the Bachata. This is because you're dancing along with a partner and will come off looking extremely odd and awkward if you're not in sync. What you can do before signing up for your classes, is get to know the music a little. Listen to it regularly so you are familiar with at least 10 of the hit songs.
Make Use of That Song Intro
Now that you've done your research and know the songs, you can work your way into it. Most Bachata songs have rather long intros. So, if you're familiar with the song, then you have some time on your hands to get into the rhythm of it. Something most first-time Bachata dancers do is sway in a figure-9 shape in place, especially when the music is low-key. Tip: Listen to Enrique Iglesias & Romeo Santo's "Loco" and find a 30-second intro where you can simply sway your hips and get into the groove before breaking out in dance.
….We hope these pointers helped you think about taking the art of Bachata seriously before searching for Bachata classes near you! Good luck!