Exciting Tattoo Shops
If you're in Hialeah and are looking to get inked, there are plenty of recommended tattoo parlors for you; but before heading out to one closest to you, there are certain factors to consider. Getting a tattoo is a life-long decision, and its permanence must not be underestimated. Although tattoos can be removed through laser surgery, all you need to do is a little reading before heading out. It is recommended to do your due diligence before getting a tattoo because finding the best tattoo shop in Hialeah can be the difference between an unsatisfied and satisfied customer.
In order to ensure that your experience is enjoyable, here is a list of 5 things to consider before making your way to your nearest tattoo shop in Hialeah. Give them some thought beforehand, and you're gold!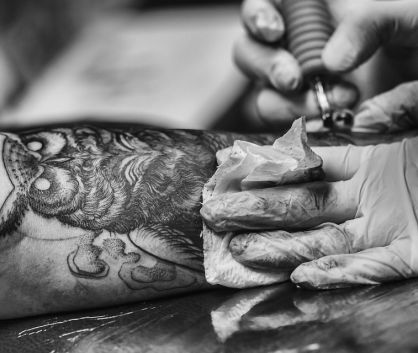 Tattoo Shop Must Be Licensed
Sometimes you will hear certain tattoo artists offering cheap tattoo services; while this does seem like a fairly good offer, you may end up with a badly done tattoo, a gruesome infection, or disease. While scanning for tattoo shops in Hialeah, make sure that they are licensed. Choosing monetary convenience over authenticity can lead to massive disappointment, and possibly lead you to spend more money (for laser surgery or treatments). Believe us: it is not worth the risk.
Must-Have Referrals
When you're looking for a great salon, you ask your friends and family for recommendations. The same should apply while getting a tattoo- always find someone you can trust to vouch for the parlor. Find people who have gotten work done at the shops you're looking at, or ask the tattoo artists to provide contacts and referrals- they would be happy to. Call them up and confirm the authenticity of the testimonials if you must, or ask around for trustworthy tattoo shops in Hialeah.
Must Be Committed To Safety & Health
At many professional tattoo shops, they take health and safety very seriously; the customer must feel safe in the hands of the tattoo artists, after all. Ensure that the place is neat and clean, and it is a good experience as soon as you walk into the shop. When you sit down with the artist, make sure they go through the elaborate process of sanitation in front of you to ensure your well-being. If you think they are taking "short cuts", leave immediately. The equipment used and work environment must be spotless. Make sure it's your style, and you're comfortable with the aura of the parlor.
Meet The Artist Yourself
Even if a tattoo shop is recommended by a close friend, it's always best to check it out yourself before making the actual appointment. Getting a tattoo is a truly subjective experience and may differ from person to person. Walk into the shop before hand and wave at the best tattoo artists in Hialeah! Get their numbers, connect with them, ask them questions that have been bothering you. Note that every artist has a different personality and style, so go with the one you jibe best with.
Take Your Time
This point cannot be stressed upon enough because getting a tattoo should not be an impulse decision. Here we'd like to reiterate the permanence of a tattoo and its life-long effects, so make sure to take your time while scanning through the elaborate list of tattoo parlors in Hialeah (there are quite a few). Don't rush into a tattoo shop and assume they're reputable because of the fancy documentation and (possibly fake) reviews they lay in front of you. Make sure you're getting your ink done from the best tattoo shop in all of Hialeah, because this should be an enjoyable experience for you.
Good luck!