Salsa can be an incredible dance form to learn but it may not be easy for everyone. The basic steps take some time to master. You may require more practice to expertly twirl or slide, or make those fast-paced moves Salsa is known for around the world. For these reasons and more, online Salsa lessons are popular and becoming more so every day. Whether you choose free online Salsa lessons or paid ones; you can benefit a great deal by opting for such classes.
Here's what makes online Salsa lessons so popular.
The convenience of Time and Place
Online classes are seldom bound by time (other than some live ones with no option to peruse it again). You can utilize one as per your own convenience. The ease of online classes has made it possible for anyone desiring to take Salsa lessons to do so despite their busy schedules. So, anyone can consistently opt for dance lessons even with their hectic schedules. A consistent routine will help you master the steps quickly. It will also help you remember your learning via a steady dance practice routine.
With online classes, you are also not restricted by your location. You can opt for paid or free online Salsa lessons available with any dance school or studio in the world. Before online classes were available, not everyone was fortunate enough to get access to arts and learning. It was confined to their locations with what was available. But not anymore – now you can bring Salsa lessons to your house, room, office, or anywhere you want.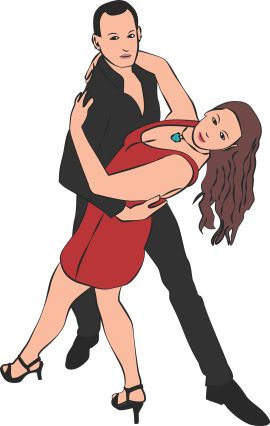 Economical in the Long-Term
Online classes are generally priced more economically than studio ones. The reason for it is the low cost of business borne by the studio. They don't have to rent costly space for their online lessons. If the lessons are pre-recorded then the cost can be even lower. They can use the same video for numerous lessons to different people.
Even for live online classes, the overhead charges are usually lower. The studio space needn't be large. Even instructors can offer classes from the comfort of their homes to further lower the costs.
Due to the low cost of online classes, you can opt for more lessons than otherwise possible for you and further augment your learning.
Good for Building Confidence
Not everyone is confident when it comes to dancing. Most people avoid taking dance lessons due to low confidence or fear of ridicule. But there is no such issue with online classes. You can learn Salsa in the privacy of your home and build your confidence with this dance form.
It is true for beginners as well as intermediate and advance students. Salsa requires consistent practice. You can always better your moves. Online classes can be perfect for anyone (regardless of age and proficiency) to learn to Salsa like a pro.
Learning at One's Own Pace
In group studio classes, learning is seldom personalized. You have to move with everyone. Your instructor will also move through the class as planned. But such restrictions do not exist with online classes.
You can learn at your own pace. You can repeat the lessons as many times as you want. You can practice the same step for weeks if that is what you require to master it. You and your partner needn't be at the mercy of others in the group. You do not need to slow down or hurry through your lessons.
Couples getting married now often opt for online classes to learn complicated routines involving Salsa or other such dance forms. It gives them the time to learn the steps by their own measure.
Choice of Instructors
You can choose online classes from world-class Salas instructors. You need not restrict yourself with what is available in your town or city. Perhaps you need to master advanced Salsa moves. But you do not have any instructors for the same in your area. Earlier such problems would impede one's learning. But now you can choose paid or free online Salsa lessons with any expert instructors based anywhere in the world.